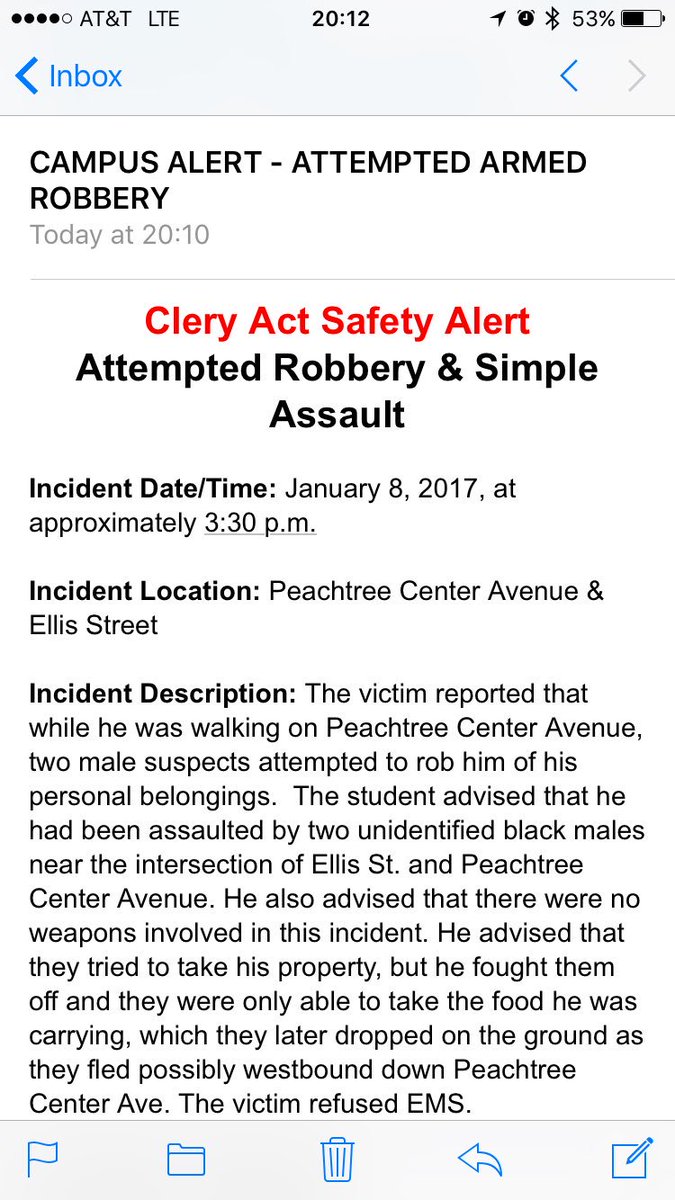 http://safety.gsu.edu/2017/01/08/peachtree-center-avenue-ellis-street/
Peachtree Center Avenue & Ellis Street
Posted On January 8, 2017
Categories Crime Alerts
Clery Act Safety Alert
Attempted Robbery & Simple Assault
Incident Date/Time: January 8, 2017, at approximately 3:30 p.m.
Incident Location: Peachtree Center Avenue & Ellis Street
Incident Description: The victim reported that while he was walking on Peachtree Center Avenue, two male suspects attempted to rob him of his personal belongings. The student advised that he had been assaulted by two unidentified black males near the intersection of Ellis St. and Peachtree Center Avenue. He also advised that there were no weapons involved in this incident. He advised that they tried to take his property, but he fought them off and they were only able to take the food he was carrying, which they later dropped on the ground as they fled possibly westbound down Peachtree Center Ave. The victim refused EMS.
Description of Suspects:
Suspect One:
Black Male
Heavy set
Suspect Two:
Male
Thin build
Dreadlocks
Status of Investigation: This incident is being investigated by the Georgia State University Police Department. If you have any information about this incident, please contact the Georgia State University Police at (404) 413-2100. Tips may also be made through the GSU LiveSafe App and the Campus Crime Stoppers Program 404-577-TIPS
You may request a safety escort on campus by calling the GSU Police at (404) 413-2100. A police officer or a security guard will drive or walk you to your destination.
Please contact Crime Prevention at (404) 413-3213 for Safety Tips and Safety Programs.
Attempted-Robbery-Simple Assault