For Sale: $60.00 OBO Fayetteville, GA. Can ship via USPS Priority Mail flat rate box for $6.80.
This is a six-shot French or Belgian pinfire double-action revolver in what appears to be .32 caliber or thereabouts. Appears to be the model 1869 with pre-1890 proof and inspection marks on the cylinder.
The Good: Springs appear to be intact. Hammer cocks and cylinder locks up with some manipulation of the trigger assembly. Cylinder revolves freely.
Bad: Pistol is rusty, dirty and obviously neglected. Extractor rod is distorted. The internal workings need to be cleaned and adjusted. This pistol is the folding trigger version and the trigger is broken off.
Basically this is for a collector or restorer. It is a paperweight or novelty item. Cannot be safely converted to use modern ammunition.
Gun was found when cleaning out the estate of Mrs JDD's grandparents. Grandfather brought this back from Europe after WWII along with the bayonet listed elsewhere.
Pictures are linked to a Photobucket album are safe to click on.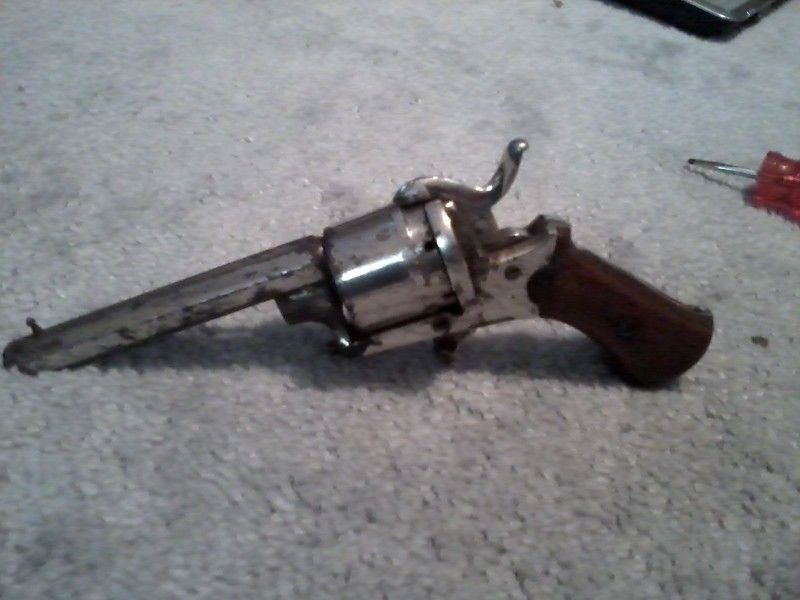 http://i90.photobucket.com/albums/k254/speedwaydog/Revolver and Baynet/1023161749-02_zpsihhmgpjr.jpg
http://i90.photobucket.com/albums/k254/speedwaydog/Revolver and Baynet/1023161750-00_zps8i509key.jpg
http://i90.photobucket.com/albums/k254/speedwaydog/Revolver and Baynet/1023161748-00_zpstzqkcvzg.jpg
http://i90.photobucket.com/albums/k254/speedwaydog/Revolver and Baynet/1023161749-00_zpsohec63hc.jpg
http://i90.photobucket.com/albums/k254/speedwaydog/Revolver and Baynet/1023161747-00_zps4703tqvh.jpg
http://i90.photobucket.com/albums/k254/speedwaydog/Revolver and Baynet/1023161746-00_zpszwbpjtcw.jpg
http://i90.photobucket.com/albums/k254/speedwaydog/Revolver and Baynet/1023161745-00_zpse7clid3u.jpg
http://i90.photobucket.com/albums/k254/speedwaydog/Revolver and Baynet/1023161746-01_zpsibgvrspy.jpg
Thanks for looking,
JDD